Besides justifying labor-hostile monetary policy, unit labor costs are often trotted out to blame unreasonable wage expectations for troubled economies' "lack of competitiveness". For example, here's a chart published last year by Paul Mason (ht Paul Krugman):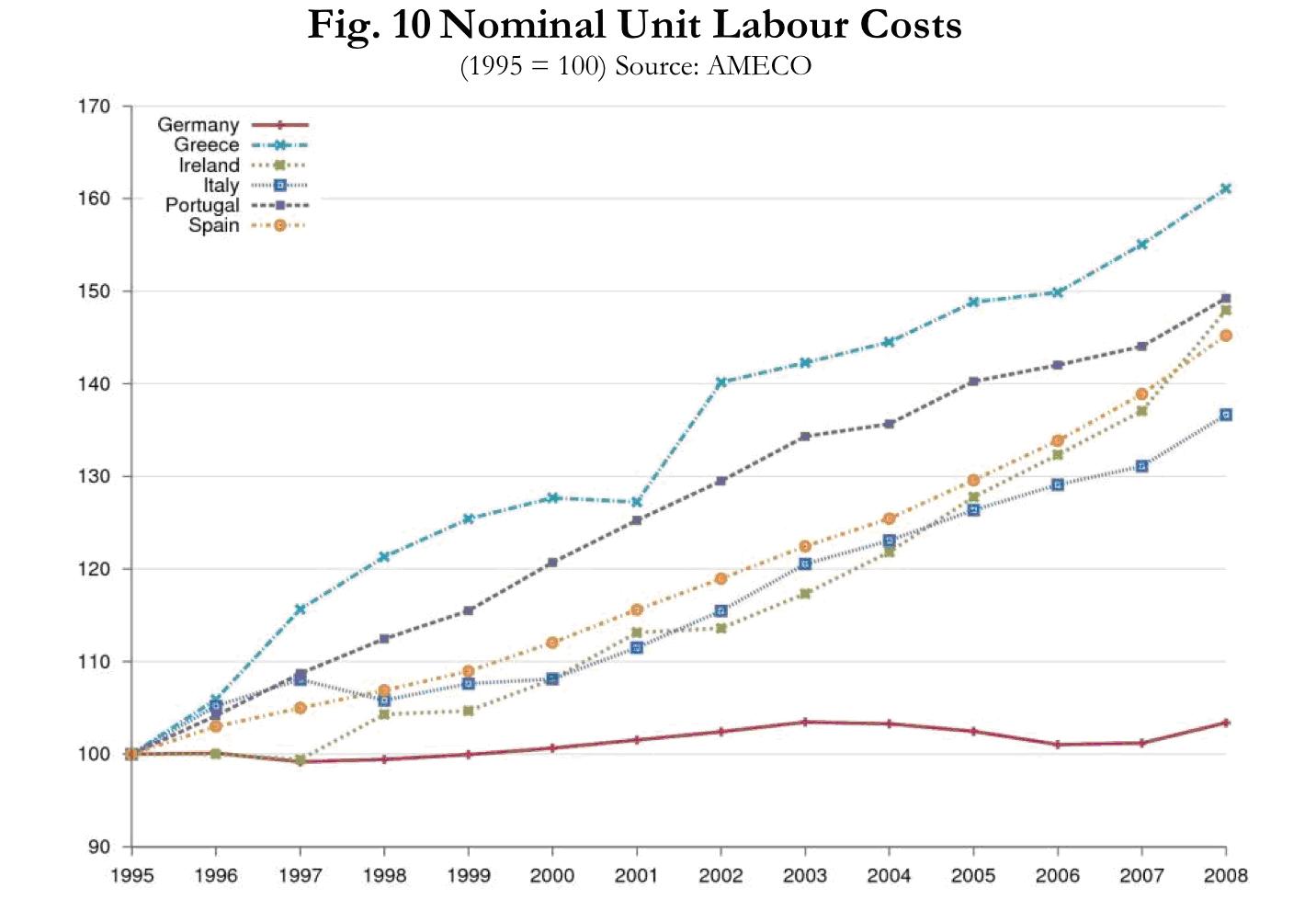 It is a common trope that labor costs in the European periphery have grown to unsustainable levels, while in the prudent and virtuous North, costs have been contained.
But the chart is misleading. Let's take a look at the same information presented a bit differently, from a wonderful Levy Institute working paper by Jesus Felipe and Utsav Kumar, "Unit Labor Costs in the Eurozone: The Competitiveness Debate Again":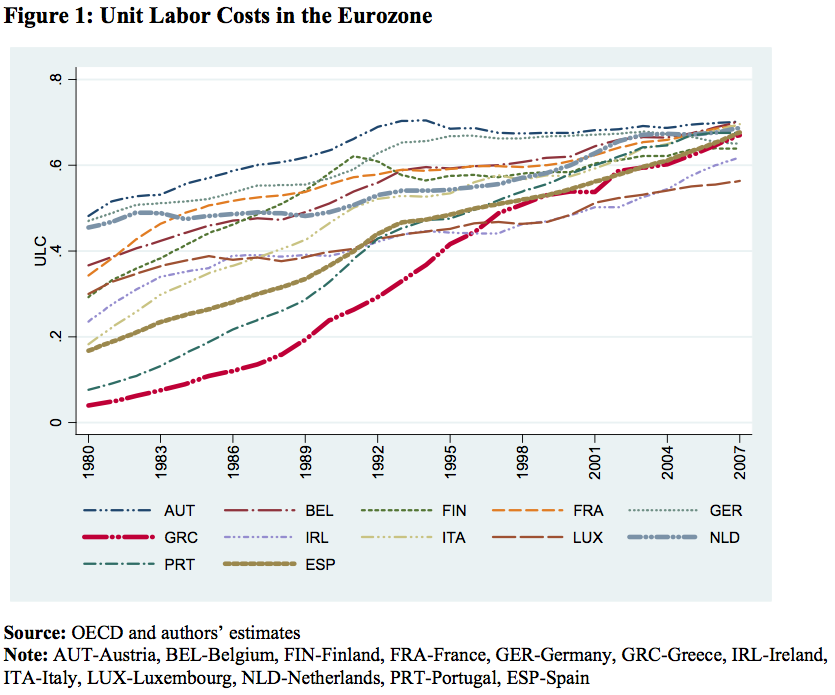 Rather than lazy Mediterraneans demanding high pay for little output, what has happened since 1980 is a convergence to prudent German norms. Workers in Southern europe are now paid roughly the same amount per unit of goods produced as their counterparts in Mitteleuropa. This is macroeconomics, so the meaning of a "unit of goods produced" is a fuzzy and contestable. But to the degree that unit labor cost statistics capture what they claim to capture, what they tell us is that European workers, North and South, have come to earn roughly equal pay for equal product.
Southern European workers do earn less overall, simply because they produce fewer or lower-value goods and services than their Northern neighbors. Unit labor costs are not the problem at all: it is the scale of aggregate output. And what determines the scale of aggregate output? Is it the laziness of workers? No, of course not. We all know that when residents of poor countries emigrate to rich ones, the same weak bodies and flawed characters that produce very little at home suddenly explode into economic vigor. The difference is "capital depth", broadly construed to include all the physical equipment, business organization, public infrastructure, and governance that collude to enable two small hands and a broken mind to accomplish outsize things. Workers' pay level is not the problem in Southern Europe. It is deficiencies in the arrangement of capital, again broadly construed, that have left Greece and Spain unable to produce value in sufficient quantity to compete with their neighbors.
One might argue that since "capital" is in some sense a scarcer factor in Southern Europe than in Northern Europe, unit labor costs "should" be lower in the South, as a "marginal unit of capital" adds more value than another hour of labor. I have to use the scare quotes though, because there really is no such things as a marginal unit of good institutions, and to the degree that's even coherent as an idea, it has no relationship at all to financial returns on invested cash. If governance fairies came to Greece and demanded workers surrender some fraction of their per-unit wages in exchange for the institutional capital that enables German levels of productivity, that might be a good deal. (Perhaps Angela Merkel thinks of herself as just such a governance fairy. I don't think a disinterested observer of her priorities and demands would agree.) In the real world, there is little consensus, with respect either to institutional development or deployment of physical capital, on how, in the context of a tradables glut from its neighbors, Southern Europe could increase its output of tradable goods and services. Looking backwards, with a converging European price level, restraint in unit labor costs relative to the European norm would have meant increased returns to financial capital, and financial capital was emphatically not a scarce factor in Southern Europe prior to the crisis. On the contrary, financial capital was abundant and enthusiastically misdeployed. That misdeployment, the tsunami of bank-mediated money that found its way into real estate and consumer loans rather than the production of competitive tradables, was the primary and proximate cause of Southern Europe's diminished competitiveness.
In their role as borrowers, some Southern Europeans were complicit in this process. But, as always, it is creditors rather than borrowers who we must hold accountable for bad lending, if we want incentives consistent with good aggregate outcomes.
In their role as workers, Southern Europeans were victims rather than beneficiaries of the wave of malinvestment. Recall that unit labor costs can be decomposed into two factors, the price level and labor's share of output. Let's take a look at some more graphs, again from Jesus Felipe and Utsav Kumar: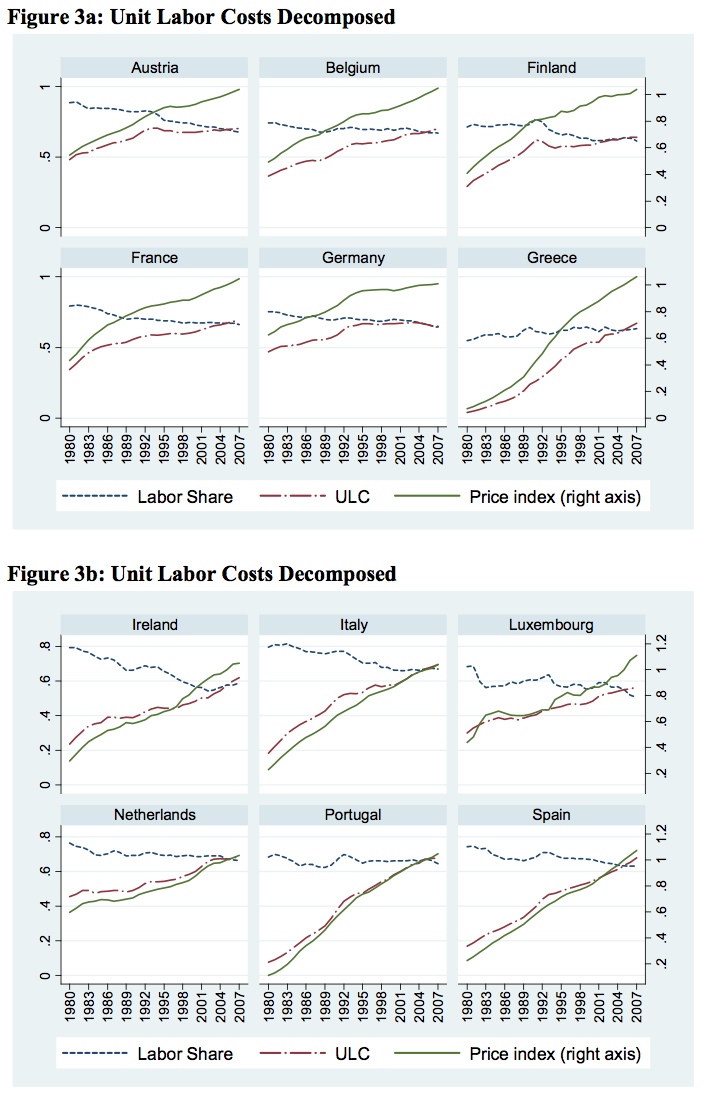 In all countries other than Greece (including the rest of the "PIIGS"), labor's share of output has been declining. Rather than winning unreasonable victories, workers have been receiving an ever smaller fraction of the output that they help to produce. The rise of unit labor costs in Portugal, Italy, Ireland and Spain have only partially compensated for the steeply rising prices that have attended European convergence.
Felipe and Kumar also estimate "unit capital costs" along the lines I described in the previous post. (See Table 1 of the paper.) For all countries other than Greece, payments to capital providers per unit output have been growing faster than payments to workers.
So what's does all this mean? Two things:
There's a common narrative of the European crisis that pins the blame on workers. It is said that during the "good times", when rivers of money flowed from Northern Europe to the Mediterranean, workers in Southern Europe were able to extract exorbitant wage hikes, forcing prices up and rendering their products uncompetitive in global markets. To put it gently, there is no evidence to support this narrative except perhaps in Greece. In the other PIIGS, unit labor costs failed even to keep up with the rising price level. Workers received a smaller share of the value they helped produce in 2007 than they took in 1980. Southern Europe's unit labor costs converged with Northern Europe's because the price levels of the two regions converged, not because Mediterranean workers took a greater share. If Southern Europe lacks competitiveness, the part of the cost structure that needs to be reformed has to do with rents paid to capital rather than the sticky wages of workers.

We should beware reductionist accounts that put the blame for the periphery's misery on inflated relative prices. Though one can tell an alarmist story looking at relative rates of change of unit labor costs, in terms of levels, the periphery's labor structure looks competitive. Nor can we blame the problems in the periphery on a mere absence of capital. Prior to the crisis, there was plenty of capital available. The European periphery was rendered uncompetitive by toxic patterns of capital allocation, for which both Northern Europe's financial institutions and Southern Europe's regulators ought to be held accountable. Altering the relative price of labor between Northern and Southern Europe would not fix these problems. Real devaluation might provide temporary relief in terms of domestic employment, and that might provide breathing room for developing better policy ideas than accepting capricious capital flows and hoping they sustain asset bubbles. But breathing room is all that devaluation can provide. It cannot substitute for better policy. Mediterranean Europe already had much lower relative labor costs than the European "core" prior to the recent convergence. Look how that worked out. The PIIGS should work to avoid falling into a kind of macroeconomic "Groundhog's day", cycling between low relative costs, convergence, and crisis.

Even though devaluation is no panacea, the nations of peripheral Europe might still wish to consider dropping the Euro. But the case for that is not, ultimately, about relative prices, but about sovereignty and bargaining power. As the MMTers correctly emphasize, control over money is essential to the sovereign power of a state. For now, the nations of the Eurozone have ceded a significant part of their sovereignty to European institutions. That would be fine, if those institutions could be trusted to look out for, or at least give fair weight to, the interests of the states which have surrendered sovereign powers. If I were a citizen of Portugal or Greece, Spain, Ireland, or Italy, I would conclude that European institutions have unduly little concern for my interests and unduly much concern for a transnational financial system and Northern European taxpayers. If that continues, I'd want my government to retract the sovereignty it had ceded, so that it has the freedom to maximize the forward-looking welfare and growth of my nation without hobbling itself in the interests of claimants to past loans that ought never have been made.
An obvious corollary to all this is that "internal devaluation" is absolutely idiotic. It's one thing to accept chemotherapy when the disease is cancer and the pain might do some good. But if the disease is not cancer, chemotherapy is just eating poison. Peripheral Europe's problem is an incapacity to produce tradable goods and services in sufficient quantity to pay for its import bill. That is a structural deficiency. The wages workers are paid for the goods and services they do produce are in line with the rest of Europe's. Lower wages might help create incentives for new investment to resolve the structural deficiency. But that hasn't worked in the past when the periphery's labor has been unusually cheap. The clear and present miseries of "internal devaluation" should not be allowed to rest on so slim a reed.
Update History:
26-Feb-2012, 2:05 a.m. EST: Dropped superfluous sentence "Patterns matter." Corrected "Norther Europe" to "Northern Europe". Reorganized awkward and oververbose sentence beginning with "In the real world…" to a still awkward and oververbose sentence. No substantive changes.