Restraining unit labor costs is a right-wing conspiracy
In an otherwise excellent post, Matt Yglesias commits one of the deadly sins of monetary policy:
[M]y favorite indicator of inflation is "unit labor costs"… Unit labor costs are basically wages divided [by] productivity. It's not the price of labor, in other words, but the price of labor output. If productivity is rising faster than wages, then even if wages themselves are rising unit labor costs are falling. Conversely, if wages rise faster than prodictivity than unit labor costs are going up. Clearly there's nothing wrong with a little increase in unit labor costs here or there. But over the long term, growth in unit labor costs needs to be constrained or else it becomes impossible to employ anyone. And you can see that in the seventies it's not just that gasoline got more expensive, we had an anomalous spate of high unit labor cost growth. That was inflation and it's what led to the regime change that's governed for the past thirty years.
That all sounds reasonable. But Yglesias has fallen into a trap. Unit labor costs are not "basically wages divided [by] productivity". That's not the right definition at all. [See update below.] Unit labor costs are nominal wages per unit of output. With a little bit of math [1], it's easy to show that
UNIT_LABOR_COSTS = PRICE_LEVEL × LABOR_SHARE_OF_OUTPUT
An increase in unit labor costs can mean one of two things. It can reflect an increase in the price level — inflation — or it can reflect an increase in labor's share of output. The Federal Reserve is properly in the business of restraining the price level. It has no business whatsoever tilting the scales in the division of income between labor and capital.
Yet throughout the Great Moderation, increases in unit labor costs were the standard alarm bell cited by Fed policy makers as an event that would call for more restrictive policy. And all through the Great Moderation, except for a brief surge during the tech boom, labor's share of output was in secular decline. (More recently, the Great Recession has been accompanied by a stunning collapse in labor share. Record corporate profits!)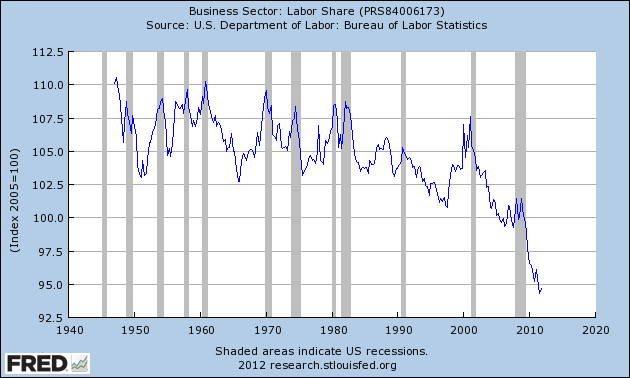 Correlation is not causation, and undoubtedly much of the decline in labor share can be attributed to factors unrelated to monetary policy, such as the integration of China into global labor markets. But even if the Fed didn't "cause" the decline in labor's share, Great Moderation monetary policy made it very difficult for labor's share to grow. Consider a simple rearrangement of the equation above:
LABOR_SHARE_OF_OUTPUT = ( UNIT_LABOR_COSTS / PRICE_LEVEL )
For labor's share to expand, either the price level must fall, or unit labor costs must rise faster than the price level. But the Fed responds aggressively to rising unit labor costs, and is committed to preventing any decrease in the price level. Under this policy regime, expansions in labor's share are pretty difficult to come by! There was that late 1990s surge in labor's share. But that is the exception that proves the rule: The Fed, to its credit, tolerated an expansion in unit labor costs from 1997 through 1999 without raising interest rates.
In addition to its direct suppression of labor's share of output, the Fed's hawkish rhetorical hawkishness on unit labor costs had debilitating indirect effects. Politicians view contractionary monetary policy as a threat to reelection. George H.W. Bush famously blamed the Greenspan Fed for not easing sufficiently prior to his failed reelection bid. Bill Clinton famously chose Rubinomics over, say, Reichonomics, and he cultivated a cordial detente with the Fed. Far too much attention is given to keeping central banks independent of politicians, and far too little is given to keeping politicians independent of central banks.
Since the early 1990s, all actors in the US political system have understood that policies that increase unit labor costs risk a response by the "inflation fighting" central bank, whose "credibility" was swaggeringly defined as a willingness to provoke recession rather than risk inflation. In this environment, the decline of labor unions and their shift in focus from wage growth to working conditions was understandable. If workers won on wages, they would lose when the recession put them out of work. As long as wages were contained, monetary policy was "accommodative", and workers could supplement their purchasing power with borrowings and asset appreciation. During the Great Moderation, wage growth was rendered obsolete. A superior means of middle class prosperity had been invented. Or so it seemed, until we experienced the toxic after-effects in 2008. Now we have grown skeptical of debt-fueled pseudoprosperity. But the covert hostility to wage growth that underpinned Great Moderation monetary policy remains unchallenged.
I imagine some readers saying to themselves, "But still. If the labor cost of 'stuff' is allowed to grow, how can that not be inflationary? It's common sense." And that's true, as far as it goes. But if the capital cost of stuff grows, that must also be inflationary. Suppose we define the complement to unit labor costs, unit capital costs. Unit capital costs might be defined as "business profits per unit of output". Would it be politically tolerable in the United States to have a central bank that prevented expansions of business profit per unit sold? Is restraining profitability of investment a proper role for a central bank? If suppressing returns to capital would be improper, why on Earth do we tolerate a central bank that opposes returns to labor?
There is an orthodox answer to this question. Wages, it is said, are sticky, while returns to capital are highly flexible. Elevated wage levels distort the economy, or force us to tolerate inflation in order to reduce real wages. Capital prices respond to market forces and find their efficient level. That might all be true at a micro level, but at a macro level our experience is opposite. The fraction of expenditures we pay into corporate profits has ratcheted upward pretty continuously since the mid-1980s, with a brief lull in the late 1990s and an even briefer one during the Great Recession. The share we pay as wages has fallen precipitously. In aggregate, labor has proven very flexible in its demands while the rentier class has been quite rigid. Economists like to be microfounded and all, but this is macroeconomics, and actual macroeconomic evidence has to count for something.
All of this is one more reason to prefer the NGDP path target promoted by Scott Sumner and his merry Market Monetarists. It might prove difficult in practice to target inflation without paying some especial attention to wage growth. But a central bank can target the path of aggregate expenditure without playing favorites about who pays what to whom. Simple neutrality by the central bank in the contest between capital and labor would be a huge improvement over the status quo.
Many thanks to Nick Rowe, who probably doesn't agree with any of this, but helped me think these issues out in the comments here.
---
Update: It is easy to show that unit labor costs are not equal to total wages divided by labor productivity. But Nick Rowe points out in the comments that unit labor costs are equal to the average hourly wage divided by labor productivity. So, depending on how you want to interpret "wages", I was too quick in tweaking Matt Yglesias for a misstatement. Sorry!
Thanks to Rowe, Dan Kervick, and JKH who work this out carefully in the (excellent) comment thread.
---
[1] Here's the math. By definition…
UNIT_LABOR_COSTS = NOMINAL_WAGES_PAID / QUANTITY_OF_REAL_OUTPUT
UNIT_LABOR_COSTS = (NOMINAL_WAGES_PAID / TOTAL_NOMINAL_EXPENDITURES) (TOTAL_NOMINAL_EXPENDITURES / QUANTITY_OF_REAL_OUTPUT)
But (NOMINAL_WAGES_PAID / TOTAL_NOMINAL_EXPENDITURES) is just labor's share of GDP and (TOTAL_NOMINAL_EXPENDITURES / QUANTITY_OF_REAL_OUTPUT) is the price per unit of output, or the price level. So we have…
UNIT_LABOR_COSTS = LABOR_SHARE_OF_OUTPUT × PRICE_LEVEL
Update History:
22-Feb-2012, 12:30 a.m. EST: Added update re alternative definition of "wages divided by productivity". Added "[by]" where quote read "wages divided productivity".