Should markets clear?
David Glasner has a great line:
[A]s much as macroeconomics may require microfoundations, microeconomics requires macrofoundations, perhaps even more so.
Macroeconomics is where all the booming controversies lie. Some economists like to argue that the field has an undeservedly bad reputation because the part that "just works", microeconomics, has such a low profile. That view is mistaken. Microeconomic analysis, whenever it escapes the elegance of theorem and proof and is applied to the actual world, always makes assumptions about the macroeconomy. One very common assumption microeconomists frequently forget that they are making is an assumption of rough distributional equality. Once that goes away, even such basic conclusions like "markets should clear" go away as well.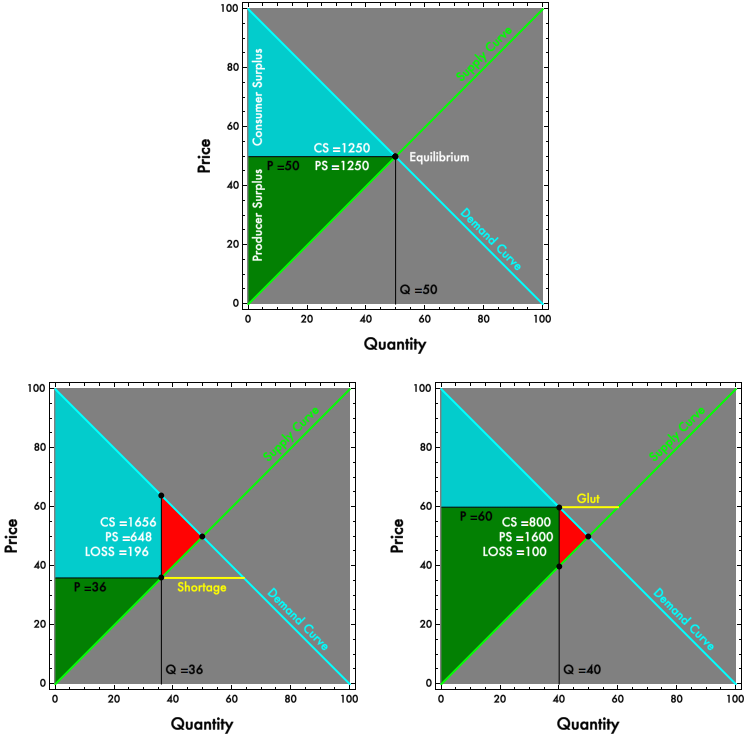 The diagrams above should be familiar to you if you've had an introductory economics course. The top graph shows supply and demand curves, with an equilibrium where they meet. At the equilibrium price where quantity supplied is equal to quantity demanded, markets are said to "clear". The bottom two diagrams show "pathological" cases where prices are fixed off-equilibrium, leading to (misleadingly named) "shortage" or "glut".
We'll leave unchallenged (although it is a thing one can challenge) the coherence of the supply-demand curve framework, and the presumption that supply curves upwards and demand curves down. So we can note, as most economists would, that the equilibrium price is the one that maximizes the quantity exchanged. Since a trade requires a willing buyer and a willing seller, the quantity sold is the minimum of quantity supplied and quantity demanded, which will always be highest where the curves meet.
But the goal of market exchange is to maximize welfare, not to generate trade for the sheer churn of it. In order to make the case that the market-clearing price maximizes well-being as well as trade, your introductory economics professor introduced the concept of surplus, represented by the shaded regions in the diagram. The light blue "consumer surplus" represents in a very straightforward way the difference between the maximum consumers would have been willing to pay for the goods they received and what they actually paid for the goods. The green producer surplus represents how much money was received in excess of what suppliers would have been minimally willing to accept for the goods they have sold. Intuitively (and your economics instructor is unlikely to have challenged this intuition), "surplus over willingness to pay" seems a good measure of consumer welfare. After all, if I would have been willing to pay $100 for some goods, and it turns out I can buy then for only $80, I have in some sense been made $20 better off by the trade. If I can buy the same bundle for only $50, I've been made even more better off. For an individual consumer or producer, under usual economic assumptions, welfare does vary monotonically with the surpluses represented in the graph above. And market-clearing maximizes the total surplus enjoyed by the consumer and producer both. (The naughty red triangles in the diagram represent the loss of surplus that occurs if prices are fixed at other than the market-clearing value.) Markets are "efficient" with respect to total surplus.
Unfortunately, in realistic contexts, surplus is not a reliable measure of welfare. An allocation that maximizes surplus can be destructive of welfare. The lesson you probably learned in an introductory economics course is based on a wholly unjustifiable slip between the two concepts.
Maximizing surplus would be sufficient to maximize welfare in a world in which one individual traded with himself. (Don't laugh: that is a coherent description of "cottage production".) But that is not the world to which these concepts are usually applied. Very frequently, surplus is defined with respect to market supply and demand curves, aggregations of individuals' desire rather than one person's demand schedule or willingness to sell, with producers and consumers represented by distinct people.
Even in the case of a single consumer and a different, single producer, one can no longer claim that market-clearing necessarily maximizes welfare. If you retreat to the useless caution into which economists sometimes huddle when threatened, if you abjure all interpersonal comparisons of welfare, then one simply cannot say whether a price below, above, or at the market-clearing value is welfare maximizing. As you see in the diagrams above, a price ceiling (a below-market-clearing price) can indeed improve our one consumer's welfare, and a price floor (an above-market price) can make our producer better off. (Remember, within a single individual, surplus and welfare do covary, so increasing one individual's surplus increases her welfare.) There are winners and losers, so who can say what's right if utilities are incommensurable?
Here at interfluidity, we are not in the business of useless economics, so we will adopt a very conventional utilitarianism, which assumes that people derive similar but steadily declining welfare from the wealth they get to allocate. Which brings us to our first result: If our single producer and our single consumer begin with equal endowments, and if the difference between consumer and producer surplus is not large, than the letting the market clear is likely to maximize welfare. But if our producer begins much wealthier than our consumer, enforcing a price ceiling may increase welfare. If it is our consumer who is wealthy, then the optimal result is a price floor. This result, a product of unassailably conventional economics, comports well with certain lay intuitions that economists sometimes ridicule. If workers are very poor, then perhaps a minimum wage (a price floor) improves welfare even of it does turn out to reduce the quantity of labor engaged. If landlords are typically wealthy, perhaps rent control (a price ceiling) is, in fact, optimal housing policy. Only in a world where the endowments of producers and those of consumers are equal is market-clearance incontrovertibly good policy. The greater the macro- inequality, the less persuasive the micro- case for letting the price mechanism do its work.
Of course we have cheated already, and jumped from the case of a single buyer and seller to a discussion of populations. Fudging aggregation is at the heart of economic instruction, and I do love to honor tradition. If producers and consumers represent distinct groupings, but each group is internally homogeneous, aggregation doesn't present us with terrible problems. So we'll stand with the previous discussion. But what if there is a great diversity of circumstance within groupings of consumers or producers?
Let's consider another common case about which many economists differ with views that might be characterized as "populist". Suppose there is a limited, inelastic supply of road-lanes flowing onto the island of Manhattan. If access to roads is ungated, unpleasant evidence of shortage emerges. Thousands of people lose time in snarling, smoking, traffic jams. A frequently proposed solution to this problem is "congestion pricing". Access to the bridges and tunnels crossing onto the island might be tolled, and the cost of the toll could be made to rise to the point where the number of vehicles willing to pay the price of entry was no more than what the lanes can fluidly accommodate. The case for price-rationing of an inelastically supplied good is very strong under two assumptions: 1) that people have diverse needs and preferences related to the individual circumstances of their lives; and 2) willingness to pay is a good measure of the relative strength of those needs and values. Under these assumptions, the virtue of congestion pricing is clear. People who most need to make the trip into Manhattan quickly, those who most value a quick journey, will pay for it. Those who don't really need the trip or don't mind waiting will skip the journey, or delay it until the price of the journey is cheap. When willingness to pay is a good measure of contribution to welfare, price rationing ensures that those more willing to pay travel in preference to those less willing, maximizing welfare.
Unfortunately, willingness to pay cannot be taken as a reasonable proxy for contribution to welfare if similar individuals face the choice with very different endowments. Congestion pricing is a reasonable candidate for near-optimal policy in a world where consumers are roughly equal in wealth and income. The more unequal the population of consumers, the weaker the case for price rationing. Schemes like congestion pricing become impossibly dumb in a world where a poor person might be rationed out of a life-saving trip to the hospital by a millionaire on a joy ride. Your position on whether congestion pricing of roads, or many analogous price-rationing schemes, would be good policy in practice has to be conditioned on an evaluation of just how unequal a world you think we live in. (Alternatively, maybe under some "just desserts" theory you think inequality of endowment in the context of an individual choice is determined by more global factors that justify rationing schemes that are plainly welfare-destructive and would be indefensible in isolation. I, um, disagree. But if this is you, your case in favor of microeconomic market-clearing survives only through the intervention of a very contestable macro- model.)
Inequality's evisceration of the case for market-clearing does not require any conventional market failures. We need not invoke externalities or information asymmetries. The goods exchanged can be rival and excluded, the sort of goods that markets are presumed to allocate best. Under inequality, administered prices might be welfare maximizing when suppliers are perfectly competitive (a price floor might be optimal) or when demand is perfectly elastic (in which case price ceilings might of help).
But this analysis, I can hear you say, cruel reader, is so very static. Even if the case for market-clearing, or price-rationing, is not as strong as the textbooks say in the short run, in the long run — in the dynamic future of our brilliant transhuman progeny — price rationing is best because it creates incentives for increased supply. Isn't at least that much right? Well, maybe! But there is no general reason to think that the market-clearing price is the "right" price that maximizes dynamic efficiency, and any benefits from purported dynamic efficiency have to be traded off against the real and present welfare costs of price rationing in the context of severe inequality. It's quite difficult to measure real-world supply and demand curves, since we only observe the price and volume of transactions, and observed changes can be due to shifts in supply or demand. To argue for "dynamic market efficiency" one must posit distinct short- and long-run supply curves, a dynamic process by which one evolves to the other with a speed sensitive to price, and argue that the short-term supply curve over continuous time provides at every moment prices which reflect a distribution-sensitive optimal tradeoff between short-term well-being and long-run improved supply. If not, perhaps a high price floor would better encourage supply than the short-run market equilibrium, at acceptable cost (as we seem to think with respect to intellectual property), or perhaps a price ceiling would help consumers at minimal cost to future supply. There is no introductory-economics-level case to establish the "dynamic efficiency" of laissez-faire price rationing, and no widely accepted advanced case either. We do have lots of claims of the form, "we must let XXX be priced at whatever the market bears in order to encourage future supply". That's a frequent argument for America's rent-dripping system of health care finance, for example. But, even if we concede that the availability of high producer surplus does incentivize innovation in health care, that provides us with absolutely no reason to think that existing supply and demand curves (which emerge from a crazy patchwork of institutional factors) equilibrate to make the correct short- and long-term tradeoffs. Maybe we are paying too little! Our great grandchildren's wings and gills and immortality hang in the balance! Often it is simply incorrect to posit long-term price elasticity masked by short-term tight supply. The New Urbanists are heartbroken that, in fact, the supply of housing in coveted locations seems not to be price elastic, in the short-term or long. Their preferred solution is to cling manfully to price rationing but alter the institutions beneath housing markets in hope that they might be made price elastic. An alternative solution would be to concede the actual inelasticity and just impose price controls.
But… but… but… If we don't "let markets clear", if we don't let prices ration access to supply, won't we have day-long Soviet meat lines? If the alternative to price-rationing automobile lanes creates traffic jams and pollution and accidents, isn't price-rationing superior because it avoids those costs, which are in excess of mere lack of access to the goods being rationed? Avoiding unnecessary costs occasioned by alternative forms of rationing is undoubtedly a good thing. But bearing those costs may be welfare-superior to bearing the costs of market allocation under severe inequality. There is a lot of not-irrataional nostalgia among the poor in post-Communist countries for lives that included long queues. And there are lots of choices besides "whatever price the market bears" and allocation by waiting in line all day. Ration coupons, for example, are issued during wartime precisely because the welfare cost of letting the rich bid up prices while the poor starve are too obvious to be ignored. Under sufficiently high levels of inequality, rationing scarce goods by lottery may be superior in welfare terms to market allocation.
The point of this essay is not, however, to make the case for nonmarket allocation mechanisms. There are lots of things to like about letting the market-clearing price allocate goods and services. Market allocations arise from a decentralized process that feels "natural" (even though in a deep sense it is not), which renders the allocations less likely to be contested by welfare-destructive political conflict or even violence. It is not market-clearing I wish to savage here, but the inequality that renders the mechanism welfare-destructive and therefore unsustainable. Under near equality, market allocation can indeed be celebrated as (nearly) efficient in welfare terms. However, if reliance on market processes yields the macroeconomic outcome of severe inequality, the microeconomic foundations of market allocation are destroyed. Chalk this one up as a "contradiction of capitalism". If you favor the microeconomic genius of market allocation, you must support macroeconomic intervention to ensure a distribution sufficiently equal that the mismatch between "surplus" and "welfare" is modest, or see the balance tilt towards alternative mechanisms. Inequality may be generated by capitalism, like pollution. Like pollution, inequality may be necessary correlate of important and valuable processes, and so should be tolerated to a degree. But like pollution, inequality without bound is inconsistent with the efficient functioning of free markets. If you are a lover of markets, you ought wish to limit inequality in order to preserve markets.
Update History:
14-May-2014, 1:50 a.m. PDT: "wholly unjustifiable conceptual slip between the two concepts."
14-May-2014, 12:25 p.m. PDT: "absolutely no reason", thanks Christian Peel!
3-Aug-2014, 10:50 p.m. EEDT: "and log-run long-run supply curves"
23-Mar-2021, 1:40 p.m. EDT: "…people derive the similar but steadily declining…"; "They The greater the macro- inequality, the less persuasive the micro- case…"