The long bond does the limbo
Yields on long-term US bonds have been falling like a rock since August. On the demand side, there's no great mystery to this. Stock markets have done poorly, which tends to support Treasuries as a "flight to safety" asset. Other "safe havens" have looked wobbly. European debt in general has been tarnished by the sovereign financial crisis. The Swiss Central Bank just made violently clear its discomfort with flight-to-safety investment flows. Gold and silver's prices have seemed "bubblicious" for some time, and have duly lived up and down to that characterization by crashing. Only the US Treasury remains willing and able to bear the "exorbitant burden", in Michael Pettis' coinage, of providing sanctuary to refugee capital.
The latest collapse in long-term yields followed the announcement by the Federal Reserve of an "Operation Twist" intervention, under which it will sell short-term US debt and purchase long-term debt. At first blush, it is obvious why this might drive down long-term bond yields. Holding all else constant, if the Fed enters the long bond market as a large-scale buyer, it seems natural that it would bid up prices and push down yields on long-term bonds. But this account is unsatisfying. First, "operation twist" had been widely anticipated by market participants, so why the sudden earthquake? More importantly, "holding all else constant" is a ridiculous assumption when thinking about "operation twist".
US Treasury bonds are issued by the US Treasury, which pays a great deal of attention to the structure of its liabilities, and has been working to lengthen their maturity. (See the discussion in this presentation, which is rather extraordinary in its candor, ht Bond Girl.) The US Treasury is the beneficial owner of the Federal Reserve. The Fed's profits and losses eventually flow to the Treasury. If the Treasury wishes to manage its liability structure in order to manage future costs and risks, it will consolidate the Fed's portfolio with its own as it targets a maturity structure. If the Fed sells short maturity and buys long maturity bonds, a rational Treasury will issue more long bonds and fewer short bonds than it otherwise would. (As indeed it has, see Jim Hamilton.) The central bank may "act last", in Tyler Cowen's quip, in the sense that monetary policy shifts can be made on a much higher frequency than acts of Congress that alter fiscal policy. But the Treasury issues and redeems debt continually. The Fed has no institutional advantage over the Treasury in determining the maturity structure of US debt. Unless there is a secret "Fed / Treasury" accord, the Treasury wins this fight. And Treasury seems resolute (and wise, in my opinion) in its intention to lengthen the maturity of its liabilities.
So I think "operation twist" is a side-show, perhaps a clever marketing scheme coordinated between the Fed and Treasury to help the US get high prices for the long-term debt it wants to issue. A more fundamental factor is the scale of issuance. And that has been interesting.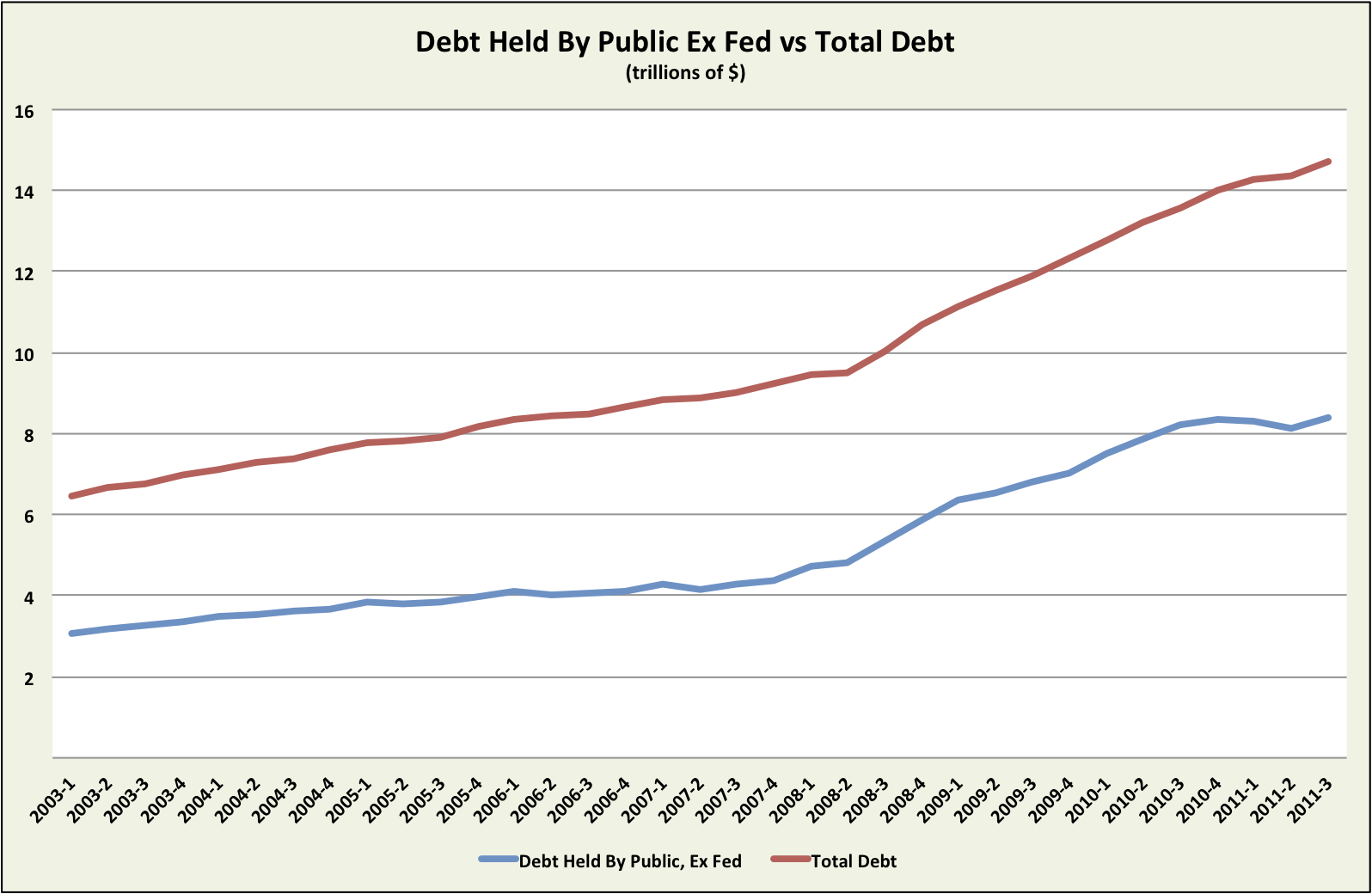 Over the first three quarters of 2011 (through last week), the net issuance of Treasury debt to the public has been very small, once you take into account purchases by the Fed. The US government has run a large deficit. In round numbers, total US debt increased by $700B over the period. Yet there was only a $40B increase in US Treasury debt to nongovernment entities. The rest of the deficit was financed by the Fed, which purchased roughly $440B of Treasury debt; by the Treasury itself, which spent down deposits it had at the Fed (as part of the crisis-related "supplementary financing program") by about $200B; and ~$20B by other "intragovernment" lenders (like Social Security). The Federal government ran a sizable deficit, yet almost no net new issuance found its way to the public. Instead, most of the new debt was monetized as part of QE2. And interest rates, long-term as well as short-term, are lower than they've ever been.
One theory of long-term interest rates is, I think, definitively refuted. This is the joint hypothesis that 1) long-term real rates include a mostly stable real yield plus a premium for expected inflation; and 2) expected inflation is a function of the growth of the monetary base. If you believe in a stable real yield, then you've got to concede that investors' now expect deflation despite an explosion of the monetary base.
The facts strike me as consistent with two different views. In one account, long rates are pinned by arbitrage to the expected path of short-rates plus a risk premium, and market participants have become increasingly certain that nominal interest rates will be very low for a very extended period. In a second account, important clienteles of investors do not consider money issued by the Fed and debt issued by the Treasury, particularly long-term debt, to be close substitutes. These investors have basically been starved of new Treasury supply, and so have bid up bond prices, in order to draw supply from the inventory of investors less wedded to maturity. [*]
These two stories are not contradictory: they might both be true to some degree. But they have different implications. Under the arbitrage-pinned expectations account, the only thing that could cause long yields to rise are changes in the expected path of short yields (or the uncertainty surrounding that expectation). Expected short yields might increase because of good economic news, or they might increase because the Fed is expected to fight inflationary pressures even in the absence of good news. Under the flow-to-clienteles story, yields would be expected to rise as Treasury issuance to the non-Fed public increases in the absence of quantitative easing, regardless of any change in economic outlook.
Expectations or flow? We still don't know. But we might have a natural experiment pretty soon, as the net, unmonetized issue of Treasury securities to the public ramps back up after a restrained nine months.
Update: Browsing around, I've just noticed a headline very similar to mine on a Reuters article published Friday: "Operation Twist to make Treasuries do limbo", by Emily Fitter. My apologies to Ms. Fitter or her headline writer for unintentionally stealing the line.
———
[*] Note: long maturity bond clienteles have had some net new supply, as the Treasury has been lengthening the maturity of its existing indebtedness via the Treasury's operation anti-twist. But there would be substantially more supply, if the Treasury had been issuing more debt.
FD: I have a longstanding short futures position in 30-year Treasuries, which I maintain both as a portfolio diversifier and for speculative reasons. I frequently purchase hedges against large adverse moves, which have been helpful lately.
Update History:
26-Sep-2011, 3:55 a.m. EDT: Added bold update, apology re similar Reuters headline.
27-Sep-2011, 2:40 a.m. EDT: Changed "nongovernmental institutions" to "to nongovernmental entities". Changed "in the Treasury's operation anti-twist" to "via the Treasury's operation anti-twist".