Tacking
This post is obviously oversimplistic. Many of the idiocies I present here are, intentionally. All blog posts are wrong but I hope some are useful. This one is more of a thumbnail than usual, but I hope it is still useful.
---
One way to understand the United States' political arrangement is that it has functioned to enable a kind of tacking. Tacking is a sailing maneuver that allows a seaman, by zig-zagging, to perform the daunting task of bringing a wind-driven boat upwind.
In one famous oversimplification, the American electorate tends socially conservative but economically left, while the American elite is socially liberal but "fiscally conservative" (i.e. economically right). Here's a graph from Lee Drutman (via Karl Smith) of the 2016 electorate: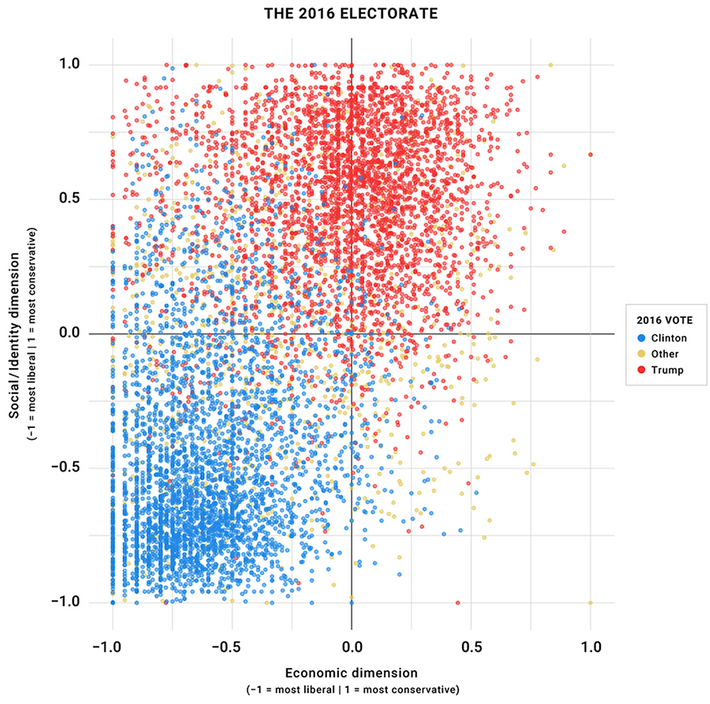 Although the strongest clusters are at the bottom left and center north, there are plenty of Americans in the category Paul Krugman described as "hardhats" (and, a bit ironically in retrospect, as missing from the political scene): socially conservative but economically left. Further, if you averaged the American electorate in the way that a voting system or political consultant might, if you collapsed it to a single point, it would sit in that quadrant — clearly to the economic left, socially center-ish but tilting conservative. "The United States is a center-right country" is a common oversimplification that is not only wrong but mostly useless. "Left but not woke" (which David Frum dubbed Bernie Sanders' brand) is a better characterization of the heart of the US electorate, or at least it was as of 2016, before "The Great Awokening".
Yet neither US political party's messaging has historically been tailored to the top left quadrant in which the average (but not modal) American has lived. We have one party that bills itself as full-throatedly socially liberal and half-heartedly economically left, and another party that bills itself as full-throatedly on the economic right, but half heartedly socially conservative.
Donald Trump rose to power by taking this missing ground. He campaigned (although has not governed) from the economic left, talking about universal health care, protecting entitlements, and trillion-dollar infrastructure projects, and from a social right so unapologetic some of his copartisans denounced it as racist. It worked! Under the simple (very wrong) median-voter-theorem-ish logic under which the US political system is supposed to deliver moderation, both US parties should be messaging somewhere just north and substantially left of the center point of this graph. But that is not where either US party usually is.
However, if you factor in the shared preferences of elites who shape both parties' political operations — professionals and donors — maybe the arrangement makes a bit more sense. If these players are not neutral operators trying to gain votes for their team, but interested actors whose bipartisan target sits (lonesomely!) in the bottom right of the graph, then you can see some sense in the parties' positioning. The United States historically oscillates between its political parties. Elites can make economic progress when Republicans govern, by deemphasizing the social issues that win the votes and enacting the less popular economic agenda. When Democrats are in power, elites make pursue their agenda by emphasizing social progress while disingenuously lamenting constraints that thwart economic progress. Elites use our famous "peaceful transfers of power" not as signals to change direction, but as the zigs and zags that constitute a tack in their prescribed direction.
This is more an account of the past than a guide to the future. Hopefully it helps discredit the (silly) "too much democracy" theory prominent among elites to explain current political dysfunction. The electorate has spent decades swapping political parties and moving away from what, on average, it has wanted. The social extremity of the Trump coalition can be understood less as a discontinuity, and more as part of a reaction to the post-2008 discrediting of elite economic preferences. Emphasizing polarization on social rather than economic grounds helped avoid a dangerously "left but not woke" primary challenger among D-leaning voters (who live mostly in the left half of the graph), and also helped mobilize a dispirited, economically not-so-conservative base to turn out in an expression of social resentments among R-leaning voters (who live mostly in the top half of the graph). Both parties' elites shared an interest in polarizing the countries across a social and cultural terrain, while de-emphasizing economics. But Trump turned Washington's gurus into sorcerers' apprentices, as their usually calibrated tweaking of social resentments gave way to a figure they increasingly cannot control, and of whose governance no sane American should approve.
In 2020, I am a bitterly disappointed either-Bernie-or-Liz guy. Nevertheless, I'll be working to elect Joe Biden over Donald Trump this fall. But I do hope a new administration understands the stakes. You can't not give the public what it wants over a period of decades and expect democratic forms and norms to go unscathed. In order to bring down the temperature of social polarization in the United States (which, perhaps marking me as a squish sell-out, I desperately hope we manage), elites will have to reverse their 2016 mistake, and give ground to the left on economics while trying to talk the country down ("unify") from the social polarization that they themselves, in my view, quite cynically engendered.