Difference
Matt Yglesias, with characteristic perceptiveness, points out (ht DeLong) that
There are significant and salient tension between the economic and identity-oriented wings of the left that conservatives largely avoided… You saw this in the Clinton/Sanders primary where identity politics rhetoric and concepts were mobilized to shore up economic moderation.
Freddie deBoer offers a piece that I enthusiastically recommend. (But then I would, wouldn't I?) deBoer writes
the existence of tens of millions of nativist racists represents a practical problem to be addressed no matter what your take on their origins. I am not talking about giving concessions that we consider contrary to our basic convictions in an effort to court these voters. I'm not necessarily talking about courting them, as voters, at all. I am not saying we shouldn't defeat them in elections. I am asking, what do we do with them after the elections have been won? More, I am here asking that we consider whether we want to adopt the basic logic of conservatism: that some people's distress is deserved and thus safely ignored.
In general, I think attitudes towards difference are an underappreciated fault line of contemporary liberal politics. By difference, I don't mean individual difference or eccentricity, iconoclasm or nonconformity. What I do mean is consequential divergences of status across different, socially identified groups of people.
There are two axes of difference that seem to me to be particularly relevant. Yglesias identifies these precisely: There is an axis of "identity politics", and an axis of economic stratification. Both of these axes are associated with "progressivism", in the sense that both economic stratification and various socially defined identity groups have been associated with perceptions of disadvantage and oppression of the sort "progressivism" seeks to remedy. (See Arnold Kling's axes.)
However, there are two, quite distinct approaches to remedying this sort of oppression. One way is to alter the way people are sorted and the relative status of the different groups so that the socially consequential groupings are more legitimate. Another way is to try to diminish the legitimacy and the fact of distinctions between groups, so that what groupings remain are more like elective subcultures than implacable social facts.
Along the economic axis, this distinction plays out in the question of meritocracy. "Classical liberals" and the people sometimes referred to as neoliberals don't challenge the existence of large, consequential differences between rich and poor. They seek to remedy what is oppressive in economic stratification by putting a humane floor beneath the consequences of being sorted downwards, and by working to ensure that the sorting is "fair". They tend to promote equality of opportunity and emphasize education as a solution. People to whom the label "left" gets applied work instead to compress economic difference, to delegitimize the sorting or at least to dramatically reduce its scope relative to the unjust, socially destructive dispersion they perceive in the status status quo. Both groups find common cause, sometimes, in wanting to put a floor beneath the bottom. But they are in sharp conflict about whether stratification towards the top calls for making the sort fairer or imposing limits.
With respect to identity politics, there is a similar divide, but the labels aren't as recognizable. There is a strand of left-of-center politics that seeks to simply end group difference, epitomized by Martin Luther King's call for "a nation where they will not be judged by the color of their skin but by the content of their character". There is a different strand that views group difference as legitimate, or else inevitable and therefore legitimate, and that seeks to remedy oppression by contesting in politics and society explicitly as groups in order to alter the sorting of material goods and social status across groups. As in economics, where meritocratic liberals and people to their left form uneasy alliances over "safety net" programs, universalists and identity-centered activists can and often do work together to try to remedy disadvantage and oppression attached to social identity. Just as meritocratic liberals acknowledge the fact of economic hierarchy, universalists are not reductionists, they (we) acknowledge the fact that social goods are differentially distributed across identities through mechanisms quite different from within-group economic sorting, and often much more brutal. But, as in the economic sphere, universalists and identity-centered activists ultimately have very different goals and so embrace very different tactics. Universalists want group identity to become less salient and consequential, and so resist tactics that highlight difference in order to promote intragroup solidarity and to sow open conflict with other groups. Identity-centered activists view solidarity and conflict as the best and perhaps only way to overcome identity-distributed oppression. To a universalist, tactics like "no platforming" sow precisely the sort of divisions we ought to be working to overcome. To an identity-centered activist, "no platforming" an apologist for racism or sexual violence is just winning. This distinction blurs in practice, because neither universalists nor identity-centered activists restrict themselves to "neutral" (race-neutral, gender-neutral) tactics. Procedural neutrality is a trope of conservatives, of people working to defend status quo distinctions rather than to alter them. But universalists adopt group-conscious tactics as a means of reducing the salience and importance of group difference (think of how Singapore actively manages the composition of its housing to prevent the emergence of distinct ethnoracial communities), while identity-centered activists work to advance the interests of the groups for which they advocate in ways likely to accentuate the salience of group membership and encourage continued group identification and solidarity.
The core dispute, I think, in identity politics as in economic policy, is over whether to embrace consequential difference across groups but make outcomes more legitimate, or whether to try to reduce the degree to which difference is socially and materially consequential.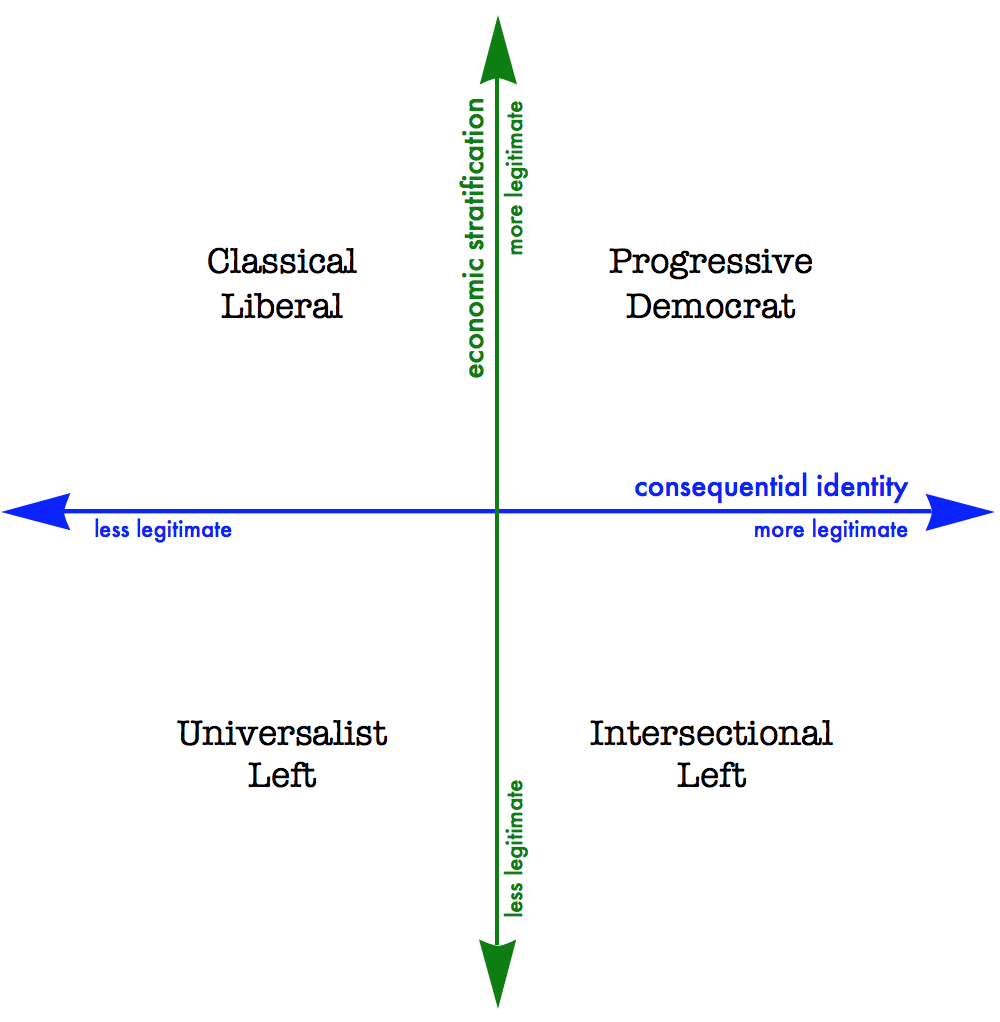 The diagram above summarizes the differences as I see them among US liberal-to-left factions. Note that these are questions of more or less, not absolutes. I'd place myself in the "universalist left", for example, but I do believe that some degree of economic stratification is legitimate and necessary, under economists' usual rationale of preserving incentives to produce. I just think that the degree of economic stratification that currently prevails is way, way, way, way, way past the point where benefits of sharp incentives to produce are undone by even sharper incentives to cheat and outweighed by destructive social fragmentation.
---
Update: Eli Schiff offered some similar thought experiments recently, thinking about the acceptability and reputation effects of left- and right-flavored activism in a corporate setting or workplace, depending on whether that activism emphasizes identity or economic concerns. I chatted with Schiff about these, and am indebted to him in thinking about using emphasis on identity politics to cut a 2 x 2 grid. Take a look at his work, his initial cut, or his more elaborate take, also embedded below!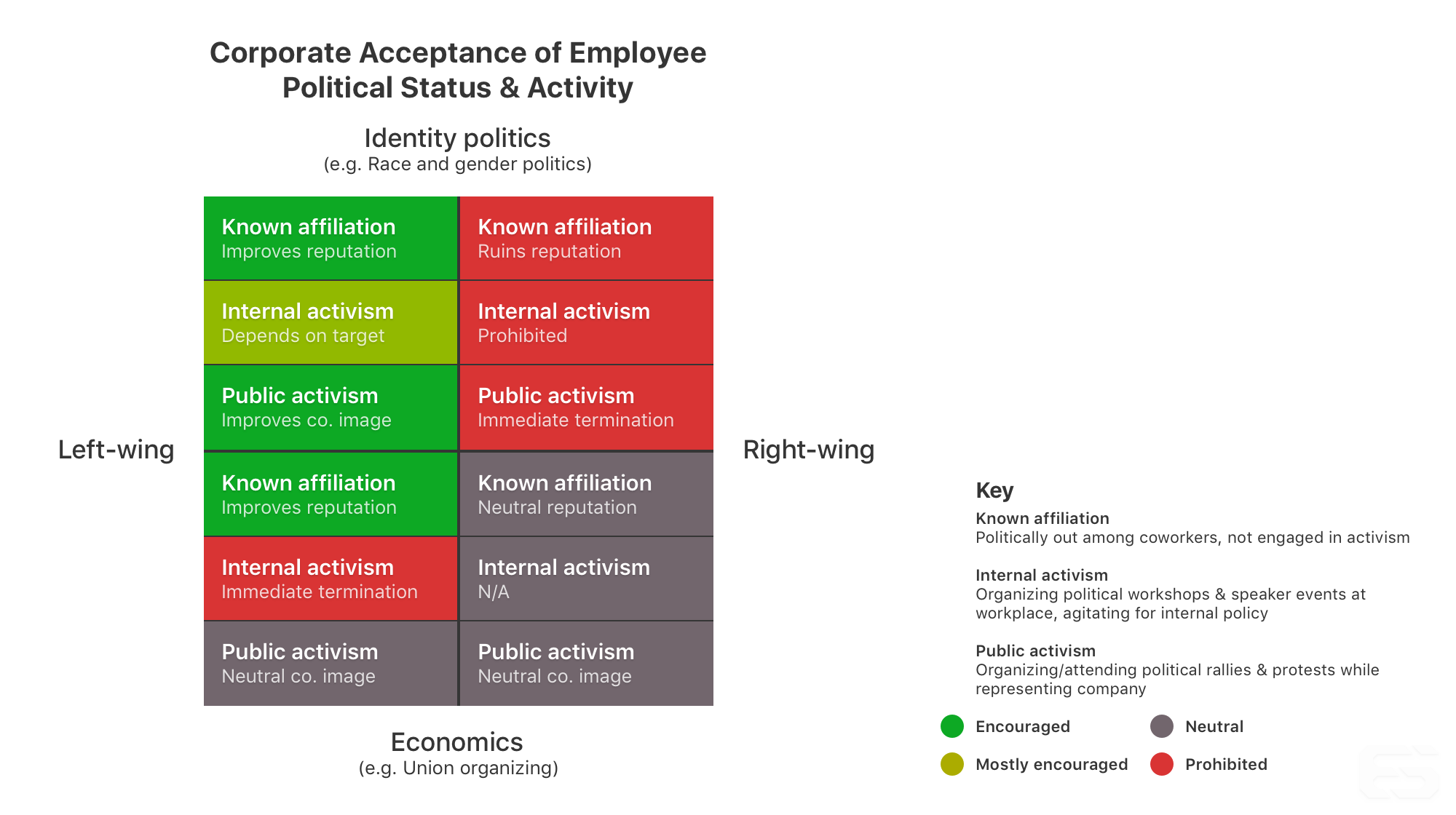 Update History:
15-May-2016, 4:25 p.m. PDT: "…neither the universalists nor the identity-centered activists…"
17-May-2016, 1:15 p.m. PDT: Added bold update re Eli Schiff's thought experiments on the acceptability of workplace activism.
19-May-2016, 1:15 p.m. PDT: Added horizontal line to separate conclusion from update.