Michal Kalecki on the Great Moderation
So, it is to my great discredit that I had not read Kalecki's Political Aspects of Full Employment (html, pdf) before clicking through from a (characteristically excellent) Chris Dillow post. There is little I have ever said or thought about economics that Kalecki hadn't said or thought better in this short and very readable essay.
Here is Kalecki describing with preternatural precision the so-called "Great Moderation", and its limits:
The rate of interest or income tax [might be] reduced in a slump but not increased in the subsequent boom. In this case the boom will last longer, but it must end in a new slump: one reduction in the rate of interest or income tax does not, of course, eliminate the forces which cause cyclical fluctuations in a capitalist economy. In the new slump it will be necessary to reduce the rate of interest or income tax again and so on. Thus in the not too remote future, the rate of interest would have to be negative and income tax would have to be replaced by an income subsidy. The same would arise if it were attempted to maintain full employment by stimulating private investment: the rate of interest and income tax would have to be reduced continuously.
Dude wrote that in 1943.
Let's check out what FRED has to say about interest rates during the era of the lionized, self-congratulatory central banker: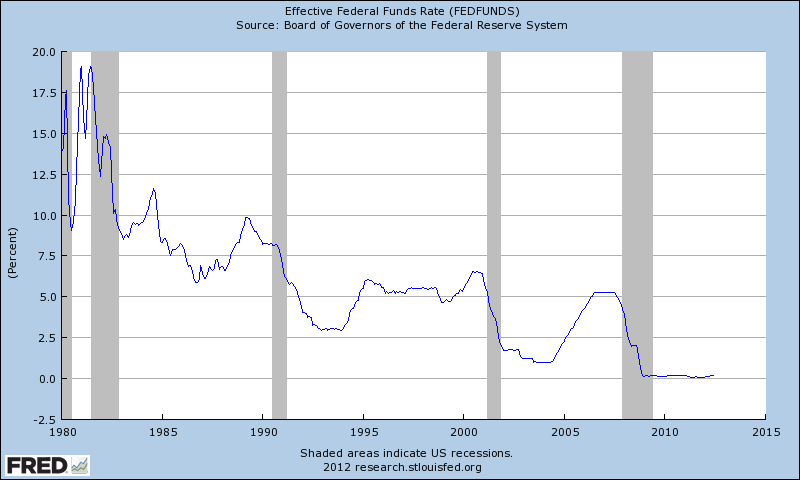 Yeah, those central bankers with their Taylor Rules and DSGE models were frigging brilliant. New Keynesian monetary policy was, like, totally a science. Who could have predicted that engineering a secular collapse of interest rates and incomes tax rates (matched, of course, by an explosion of debt) might, for a while, moderate business and employment cycles in a manner unusually palatable to business and other elites? Lots of equations were necessary. No one would have guessed that, like, 70 years ago.
The bit I've quoted is perhaps the least interesting part of the essay. I've chosen to highlight it because I hold a churlish grudge against the "Great Moderation".
Bloggers say this all the time, but really, if you have not, you should read the whole thing.