Toy models of inequality, negative interest rates, revolutions, and trade deficits
Oddly, the toy model in the appendix of my previous post got a bit of attention. Megan McArdle is unimpressed. In the model, I posit a world in which abundant labor and scarce land yield an unstorable crop in great quantity. But because labor is so abundant (and so the marginal labor unproductive), wages are low and a vast surplus accrues to the landowners, far more than they can possibly consume. I posited that in this economy, the interest rate would be -100%. Laborers would be eager to "borrow" but would have no way to repay. Land owners would lose nothing to "lend".
McArdle takes issue with this: "[A]t the limits of land scarcity and labor abundance..land-owners receive approximately all the bread and laborers receive approximately none of it." She asks why laborers don't die, but then answers her own question, and poses one for me.
[I]t's a simplifying model. But…[o]nce you add in complications — the workers do need to eat, which means positive earnings — then it's not clear you're still in a model where persistent negative interest rates are possible. Once I am appropriating some subsistence amount of my marginal product, then, well, I can skip dinner today in order to enjoy two dinners tomorrow. Interest rates are positive.
She's not entirely wrong and not entirely right here. Picking a nit, paying subsistence is not sufficient to generate an inter-worker lending market. You also have to sprinkle in some uncertainty or heterogeneity of circumstance. Identical laborers with identical wages never borrow or lend to one another. That's a stupid point to a reader, since any realistic world has plenty of heterogeneity and uncertainty. But it's a crucial point for the model writer, because, in the kind of models I tend to think about, the structure of uncertainties drives the results.
So, let's posit idiosyncratic shocks to circumstance among our laborers. Then, as McArdle suggests, an inter-worker lending market with positive interest rates might arise. Or it might not. As I've sketched the model, land owners are indifferent between i) mocking the peasants' hunger while bread rots; ii) "giv[ing] their excess bread to charity in return for a nice smile and tip of the hat" (Nick Rowe); or iii) participating in a lending market. If land owners don't lend, McArdle is right — laborers face positive interest rates. If land owners do lend, we need to know more about laborers' preferences and circumstances, but the market clearing interest rate might well remain negative -100% because the land owners will have flooded the market with bread. Loan demand will tell the tale: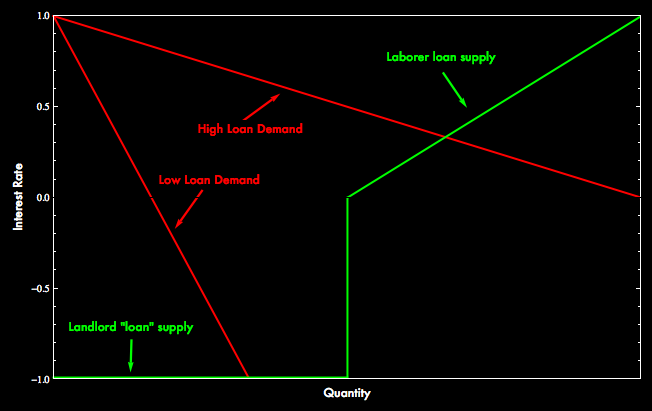 So, even if the laborers have wages and can lend to one another, it's perfectly possible for a wall of hot money from the rich to drive interest rates negative. Yay me.
(The shape of the supply curve is exaggerated, but I could use this diagram to summarize my view of the last decade. Pre-crisis, financial alchemists kept us on the high loan demand equilibrium. Post-crisis, effective loan demand has fallen, as people less likely to repay have been rationed out of the market. The result is a new equilibrium at a negative rate.)
My toy model is unsatisfying so long as we don't understand why, as Nick Rowe wonders, the rich don't simply give their surplus bread away. Rowe overprojects his own goodwill when he suggests the smiles of peasants would engender certain charity. But we've no reason to privilege sadistic withholding or ritualized lending either. Suppose the usual selfish homo economicus. Under what circumstances would the land owners be driven to lend of their own self-interest? It is not enough, as it would be among the peasants, to posit idiosyncratic, symmetric shocks for landlords that leave them sometimes hungry. That would lead to some kind of mutual insurance between lenders — I'll give you my surplus this period if you give me yours when I have a drought. In order to drive lending to laborers, we need there to be some state of the world in which laborers as a group would have some wealth when landowners are short. If there is even a small probability of such a state, even if both the probability of that state and the expected recovery on loans is small, land owners will lend at negative formal rates rather than give charitably or horde sadistically.
In theory, it is enough to posit kitchen gardens among the peasants whose three-radish harvests are independent of land-owner droughts. That would break the indifference and tip the scale to lending. But it feels like a cheap modeling trick. What kind of shocks could make land owners really prefer lending at an expected loss over other uses?
An obvious possibility is political risk, or in extremis revolution. Suppose there is mobility between peasants and landowners, so that they must sometimes trade places (the king elevates a peasant to a lord, and demotes the old lord to a peasant). If loan contracts might survive the demotions, so that a new lord would honor a debt to his predecessor, that would be a strong reason for land owners to prefer lending over charity or waste, even if the lending rates are negative and the likelihood of demotion is small.
In the modern real world, we don't have kings and nobles, but we do have billionaires who face some risk of expropriation. After their expected consumption needs are seen to, it is perfectly rational for these investors to accept sharply negative rates on loans whose repayment would resist such misfortune. Unfortunately, billionaires' recovery of loans to their own nations' poor might be negatively correlated with revolution. So they should prefer to supply loans externally rather than domestically, even at low or negative interest rates. The increased likelihood of surviving a revolution would offset the cost of any price concession.
This model would predict a positive correlation between within-country inequality and gross capital outflows. If nations are homogeneously unequal and unstable, there might be symmetrical diversification and little net imbalance of flows. But if some nations less unequal or are viewed as unusually reliable loan destinations, they'd experience net inflows. Price-insensitive capital flows would engender trade deficits, as risk-averse foreign elites accept low returns from safe countries despite much better returns elsewhere on a conventionally risk-adjusted basis. To very wealthy investors, the correlation structure of tail risk would be the primary driver of investment behavior, far outweighing questions of price.
Paul Krugman argues that if there's a savings glut exerting a downward pull on US real interest rates, it must be driven by foreign saving rather than domestic inequality, as net saving by US households was on a secular decline prior to the current crisis. I'd need more evidence, because, as Kevin Drum points out, low net household saving could include accelerating saving by the very wealthy masked by debt-financed consumption of the less affluent. Domestic inequality may yet be an important part of the story. But I agree with Krugman that price insensitive foreign capital has been the clearest source of interest rate gravity. The secular decline in US real interest rates since the 1980s has been matched by a secular deterioration in the US balance of payments. Ben Bernanke's famous 2005 speech on a "global savings glut" was all about foreign capital inflows. As a long-time Brad Setser groupie, I would never downplay the scale or role of financial imbalance in reshaping the world economy.
But financial imbalance is at least in part an inequality story, and may be only the tip of an iceberg of gross cross-border capital flows from sources willing to pay for insurance or other goods rather than seek return in units of consumption. The supply of capital, like any other good, reflects the opportunity cost of its providers. The quantities we observe are effects more than causes. For a Chinese government purchasing development and domestic stability, or a Saudi prince exchanging appreciating oil for depreciating London bank deposits, or an American oligarch overpaying for apartments in far flung countries, the opportunity cost of capital has little to do with units of CPI foregone. As the marginal supplier of capital, domestically and internationally, comes to look less like an individual balancing present vs future consumption and more like a billionaire or a state, models of capital allocation that focus on investors seeking "real return" fade into irrelevance.
I don't think we have any sense of how a "market economy" behaves under this form of capital allocation. Unfortunately, I think we are a long way down the road towards finding out. Even wealth allegedly invested on behalf of modest savers is increasingly centralized and managed by agents whose choices are dominated by professional trends, regulatory safe harbors, and front-loaded asymmetric payouts. It's a brave new world, unless we find some way to restore investment decisionmaking to people whose trade-offs of current for uncertain future wealth more closely resemble those faced by ordinary, nonsatiated consumers.