The debt ceiling and the end of QE2
This is a trivial point, but I haven't seen it made.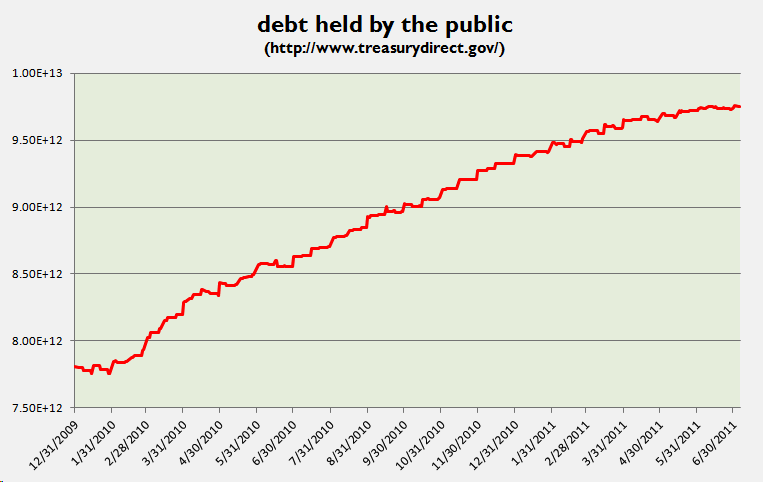 It will be very difficult to tell whether the expiration of QE2 was the end of the world, or whether it will matter very much at all, until the debt ceiling standoff is resolved.
Quantitative easing alarmists tend to take a "flow" view of Treasury bond prices. During QE2, the Federal Reserve was purchasing a substantial fraction of the debt issued by the Treasury, reducing the flow of securities that the private sector was required to absorb. Without the Fed as a megapurchaser, the private sector will have to absorb a larger quantity of debt, and may demand concessions on price (or, equivalently, higher yields) in order to do so.
QE2 has ended, but the net flow of Treasury securities to the private sector has not increased. On the contrary, since mid-May net issuance has ground to a halt, as the Treasury has juggled intragovernmental accounts to fund itself without violating the debt ceiling.
I have no idea whether the QE2 Cassandras are correct or not. But we won't have a reasonable test of their hypothesis, even by the rough and ready evidentiary standards of a blogfight, until the US Treasury resumes funding its deficit by selling securities to the public at large.
---
FD: I'm short long-term US Treasuries, and have been for years, for reasons that are in part speculative and in part related to hedging other positions. I have no strong view on the degree to which QE2 or its expiration might affect Treasury prices.
Update History:
6-July-2011, 8:25 p.m. EDT: Added parenthetical "(or, equivalently, higher yields)".